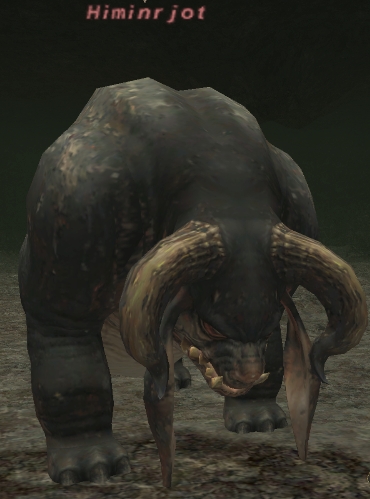 [Death Count: 2/3]
Uses a move called Snort. This dosnt show up in the log, so is possibly not stunable. What it does, is a cona based AoE attack with added knock back ability.
Keeping hate on Himinrjot is also very hard, since he picks a target at random to attack - In other words, stay together.
Himinrjot have less defence if hit from the back. Try to get as many WS's in on its rear. Doing a attack to its face will get a high amount of deductions to damage parameters.
BLM also do very vell on this mob. Use thunder based attacks. Blizzard spells is resisted at a high rate.
Preparing for the Bossfight.
Following our victory against the lesser mobs, all parties will move to "The Tunnel". Unlike previous strategy where we want to make room between the parties, this Phase involves all the parties tightly locked together in this tunnel (As seen in the figure below. For Party leaders, line up according to the picture inside the tunnel). If you get hate - DO NOT RUN AWAY FROM THE TUNNEL!! Keywords for the Bossfight: Stay in the damn tunnel no matter what. Once all are ready for the boss, the Main Puller will bring the boss to the tunnel for his immediate death.
Boss Fight
- As mentioned above, once the Boss is in the tunnel, Nobody (Yes nobody) leaves the tunnel untill the boss is dead. To win this effectivly all hate must be inside thoose walls. Do not fight it with your back against the "Open Area". If you get hate and is knock backed as an exampel, the boss will run after you out to the Open area. We need keep him inside the tunnel at all times.
_________________
Admin





Number of posts

: 158


Age

: 36


Location

: Örebro, Sweden


Registration date :

2009-01-13




Similar topics
---
Permissions in this forum:
You
cannot
reply to topics in this forum